Helen Buckley – The Great Christmas Cook Off
Hello Helen and thank you for popping on to my blog today to chat about your new book The Great Christmas Cook Off.
Helen is originally from Hounslow in West London and now lives in Bedfordshire. She has a BA in Journalism and Contemporary History from City University and Queen Mary, University of London, and an MSc in Gender, Sexuality, Politics and Culture from Birkbeck (University of London).
During her undergraduate final year she started volunteering for a charity (Young Minds), and after she graduated got a job working at Stonewall, running their national information service.
Ever since she was little she wanted to be a writer, to turn daydreams into books. Fascinated by fame and in love with Happy Ever Afters, she is enthralled by slow-burn romances. She squeezes in time to write around looking after her two young sons.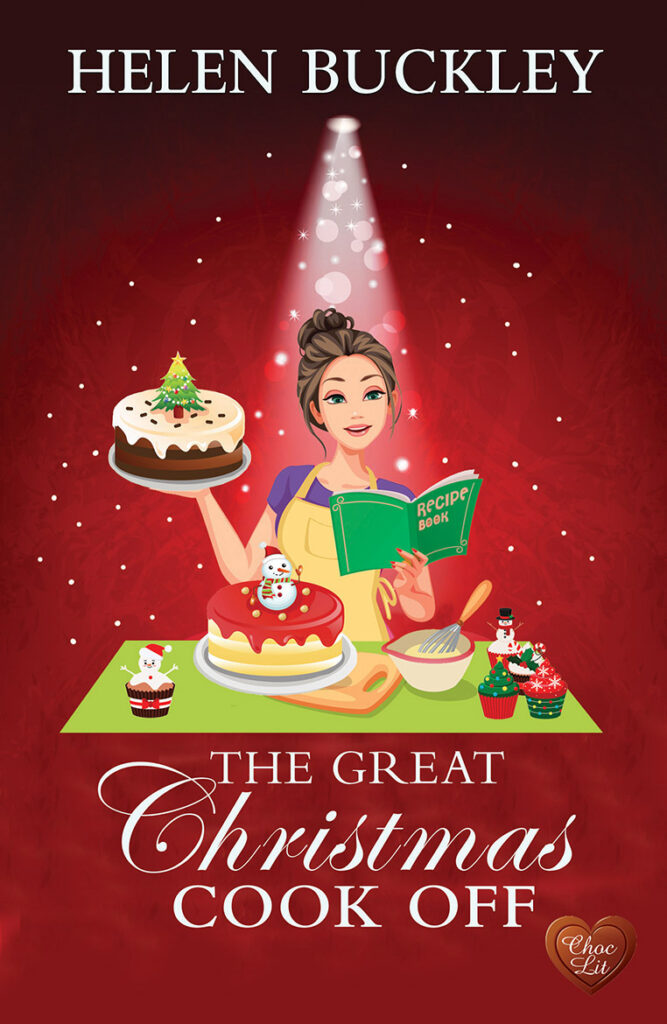 It's the festive showdown to end all festive showdowns …
"Queen of Chocolate" Beatrice Wodehouse, known for her decadent desserts, is ready to go head to head with her social media nemesis, clean lean baking machine Charlie Simmonds, in the Great Christmas Cook Off TV show.
Beatrice is fed up of Charlie's sanctimonious attitude and is ready to show him that food is there to be enjoyed. Surely she'll blow his keto, low sugar, low-carb mince pies out of the water with her chocolatey creations?
Except filming for the Cook Off turns out to be anything but sugar, spice and all things nice when the contestants realise there's a festive saboteur in their midst – leading to melted ice cream, trifle mishaps and private stories leaked to the press.
As the countdown to the final commences, suspicions run high and sparks are bound to fly – and not just from the flaming Christmas puddings!
Part of the Spotlight series but it can be read as a standalone story.
So, Helen, your second book this year, congratulations. I know you say you're not a baker, but you've managed to create some really dreamy cake ideas which means obviously most of my questions are going to be cake related. First things first, let's get the big question out of the way – would you prefer chocolate to the healthy option? Are you a Charlie or a Beatrice fan?
I'm a big chocolate fan. I have a real sweet tooth. So, sorry Charlie, but I have to side with Beatrice on this one!
Are you a GBBO fan? You've timed this book to tie in with this year's final. Have you had a favourite contestant this year? Who and why?
I love GBBO, when I get the time to watch it! It's oddly relaxing and exhilarating at the same time. And I do admire the contestants as I can't bake and what they do is like an art form, it's not just about baking, it's about the combination of unusual flavours and stunning decorations too. I couldn't pick a fave this year!
Which of your deserts would have Paul Hollywood advancing on you, hand outstretched, prepared to deliver a Hollywood handshake?
Ha ha none of them. He would probably run a mile before trying anything I make!
It's compulsive viewing in our house. I always love the technical challenges; I wouldn't know where to start on most of them. So, if you had to give your characters one more technical challenge, what would it be? 
I'd go for something Christmas related – brandy snaps I think!
Your bakers all experience issues, with ovens not working and other heart stopping problems. What is your worst culinary disaster?
I'm admittedly not really a very good baker! I did make some oaty peanut butter things once and they had absolutely zero flavour and were all gloppy! Bleurgh!
Sherry trifle or tiramisu? Tiramisu
Crème brûlée or rice pudding? Crème Brulee
Carrot cake or Black Forest gateaux? Carrot Cake
I have to have a cup of tea on my desk before I start writing, but I dare not have biscuits, sweets or even savoury snacks within easy reach, otherwise before I know where I am, they've gone and I'm off in search of more and will justify the trip on the basis they must be helping me concentrate. What about you? 
Same here! I just have to eat the whole packet!
Okay, on to the writing questions, and because I'm dying to know what are you working on next? 
I'm taking a little break from writing. We recently moved house and we've had loads of work to do so it's been really full on. I'm allowing myself some time to reflect on my next story.
Are you a NaMoWrimo fan? How are you getting on with it this year? 
I did Nanowrimo once. But it didn't really work for me. It felt a bit too pressured, and I ended up with something I didn't even like!
Thank you so much for coming on to my blog and good luck sorting out the house and I hope you have a great Christmas. I'm off to just do a quick check through the cupboards for something sweet to nibble. Anne x
Buying links for Helen's new book are:
Amazon: The Great Christmas Cook Off: A BRAND NEW uplifting festive romance (Spotlight Book 5) eBook : Buckley, Helen: Amazon.co.uk: Books
Apple: The Great Christmas Cook Off on Apple Books
Kobo: The Great Christmas Cook Off eBook by Helen Buckley – EPUB | Rakuten Kobo United Kingdom
Google: The Great Christmas Cook Off by Helen Buckley – Books on Google Play
Nook: The Great Christmas Cook Off by Helen Buckley | eBook | Barnes & Noble® (barnesandnoble.com)
Goodreads: The Great Christmas Cook Off by Helen Buckley (goodreads.com)