Linda Middleton – Things They Never Said
I'm delighted today to welcome the lovely Linda Middleton to my blog, Linda's debut novel with Choc Lit was released on June 6th.
Linda lives in Cheshire with her husband and two grown up (sometimes) sons. When she is not busy writing, she works part-time as an administrator and loves reading, cooking and researching local and family history. She had several short stories published in women's magazines and Things They Never Said is her debut contemporary romance novel.
Before I start asking questions, Linda, do you want to tell us a little about Things They Never Said?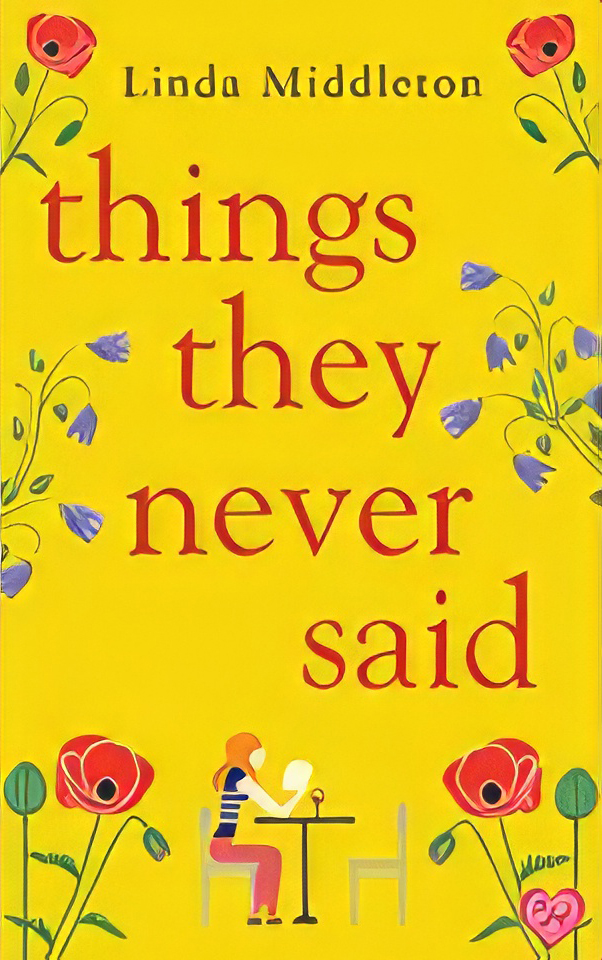 Sometimes letting go of the past is the only way to embrace the future . . .

Life hasn't been easy for Liz Cartwright. The death of her brother, Danny, when she was a teenager was devastating.

But Liz has worked hard to put her life back together, and she's finally where she wants to be. She's just landed her dream job: catering for an exclusive dinner party.

But on the night of her big break she locks eyes with the man she hoped she'd never see again. It brings Liz's life crashing down once more.

Because once upon a time Alex Sinclaire was her brother's best friend. But he let Danny down in the cruellest way. Liz has always blamed him for what happened to Danny — and to her.

But Alex doesn't remember things the same way. And despite his wealth and success, life hasn't been easy on him either.

It seems there are things that both of them left unsaid.

Maybe it's finally time to say them . . .

Linda, thank you for agreeing to come on my blog today and congratulations on your debut novel. What a great story and centred round amazing food and lovely characters. Definitely my sort of book. Without giving too much away food plays an important part in this book and you've included some really interesting food combinations, what was your inspiration behind it?
They say you should write what you know and I began this book a long time ago when I had completed a degree in hotel management and was working in the catering industry. That was my inspiration for Liz, who is a private chef. This is the very first novel I attempted to write, and was originally intended for Mills and Boon. I even sent them the first three chapters. I came across their rejection letter not long ago, which said although it was well written, it wasn't for them and basically not to work on it any more. I shoved it into the proverbial drawer and wrote other things, but I kept going back to it. The novel which is about to published is nothing like the original version, with the exception of Liz and Alex. I'm glad now that I didn't listen to the advice I received, but I must admit it was probably pretty accurate based on what I had originally written.
Obviously, I'm going to have to ask you a lot of questions about food. So before we start:
Favourite meal of the day?
Dinner, preferably with a glass of wine!
Fish and Chips, Indian or Chinese?
All three but probably Chinese first, Indian second and fish and chips third.
What would be on the Middleton table for a special supper?
I prefer to eat a combination of small plates rather than large dishes, so my favourite things to eat are Chinese starters – I make a mean chicken and sweet corn soup, ribs, prawns, chicken wings etc followed by crispy duck. I've also enjoy tapas and like experimenting with different dishes.
One of things I sometimes wish is that I could have a starter in one restaurant, a main in another, and desert in another. Assuming distance was no object, where would you go for your three-course meal and what dishes would you recommend.
We are lucky living in Chester that we have lots of choice in the local area. My favourite Italian does amazing crab cakes, they also do a duck in blackberry sauce which is to die for, so when I go for a meal there, I have both of those. But if I had to be on the move, I'd choose crab cakes there, chicken Balti and garlic naan in the Indian we go to. After that I would normally be too full to eat a desert but I do enjoy profiteroles and used to make them a lot at home. Also honeycomb ice cream from the local Cheshire Ice Cream Farm.
My mother in law used to be famous for her steak and potato pie which was my husband's favourite dish as a child. My own mother for her baked macaroni cheese but for an entirely different reason! What would you say was your own mother's most memorable creation and why do you remember it?
I have to admit that my mother wasn't the best cook in the world, and my dad was a very plain eater so dinners were mostly meat and two veg. In fact, we only experienced 'foreign food' when I started to cook at school, and the very exotic Spaghetti Bolognaise was introduced into our family diet. Mum had to cook a separate meal for dad though, I don't think he ate pasta or rice in his life! But your questions sent me on a trip down memory lane and one thing that sticks out is the family parties we used to have with my aunties, uncles and cousins. Mum would always put on a big buffet spread and I would help her make the trifle. She also used to make a fantastic cherry coconut tray bake with a chocolate base – what's not to like?
My mother wasn't the best cook in the world either, and I discovered quite late in life that the secret to a good Yorkshire pudding is that you should always use the same quantity of milk, eggs and plain flour. That would have been something useful my mother could have shared with me. Is there some catering tip, you wished your mother had shared with you?
This is a difficult one. I learnt most of my cookery skills at school or college so that taught me all the basic techniques. I think if I'd gone on to cook for a living I would have been a pastry chef, because I'm a dab hand at that. Cold hands always work best if that's a tip I can pass on, so run cold water over your hands and wrists before you handle pastry and it will work wonders.
I hate mashed potato; I will always avoid it. If there's one thing you think should be banned from all restaurant menus, what would that be?
Oysters! Even the thought of them makes me gag.
Alex and Liz are based in London, a fabulous place for food, do you know London well? And which area/restaurant would you make a beeline for?
I fell in love with London watching films on TV and I decided that one way or another I would go and live there. So as much as it broke my parents' hearts, I chose to go to London at 18 to do my degree and stayed there for the next 9 years. I lived all over London, but love the area around by Tower Bridge, which makes its way into The Things They Never Said. We went to a brilliant Argentinian restaurant around there years ago, but I don't know if it's still there so I would probably head for China Town.
Two bed apartment in London, or a two bedroomed house in the country?
Definitely the country, especially to bring up a family in. I do miss London and enjoy going back for visits but nowadays I prefer the space, and a cheaper cost of living in the country! (I do miss the tube though, although not at rush hour).
New properties these days don't seem to go in for lovely big kitchens where you can cook, entertain and eat. I remember looking at an apartment some time ago where the kitchen was little more than a corridor, and having it patiently explained to me that these days most professional people prefer eat out or get takeaways than to cook from scratch or hold lavish dinner parties. What would Alex's take on this be? If he was designing a new build home what essential features would one of his kitchens have?
Would have to be a huge open plan kitchen with an island to sit at, although he would also like it to have a big kitchen table to eat with friends and family.
Over the years, food and kitchen equipment goes through trends. – I give you the fondue set for example, do you have any item of kitchen equipment lurking in your cupboard, that you haven't used for a while?
Oh, so many gadgets! Yes, I have a fondue set somewhere, it was a wedding present. We did use it a few times before we had kids, but I'd struggle to know where it was these days, although we do still have it. I love a gadget, especially my slow cooker and air fryer, which we use all the time. And I couldn't live with my food processor and blender. I have a rice cooker that was fun for a while but now sits on a shelf. Years ago I bought a pasta maker which I've never used. I will do one day though, I keep promising myself.
I know readers always love to know about author's writing journeys, tell me about yours.
My journey has been an incredibly long one. I started writing in my twenties and I am now in my mid-fifties. I used to write a lot of short stories but it took me years to get published. I've had stories published in The People's Friend, Prima, Best and a few others. What really helped was the online writer's group I was in. At the time we all wrote stories for women's magazines, and I don't honestly think I would be where I am today without their feedback and support.
I've written a number of novels over the years, as I said, this one started a long time ago and through the Romantic Novelist's Association's New Writer's scheme I have sent it for feedback twice. I've sent other novels to agents but with no luck. Before I sent Things They Never Said to Choc Lit, I was considering self-publishing. I'm so glad that Choc Lit took me one, it means so much to have that kind of validation. When I sent it to them, I thought the book was as good as I could get it, but my editor, Lu, helped me make it even better and I'm really grateful to her. It was really scary when I got the first edits, I thought, I can't do this. But I worked at it and when I finished, it felt as though I had really achieved something. I like the submission process at Choc Lit. You submit the whole book, and it is sent to a panel of volunteer readers for feedback. If they like it, it goes to an editor who makes the final decision. When I decided I wanted to submit to Choc Lit, I became a reader myself, because I wanted to see what kind of books were being submitted. It gives me a huge thrill when I see a book published and I remember reading it at that first stage. Even if I don't enjoy the book, I try to highlight the positives and suggest ways I think things could be improved. It's heartbreaking to get unnecessarily harsh feedback but it's also important to be honest. But kind. I always try to be kind.
Talk me through a typical writing day in your house, along obviously with the catering!
I work three days a week as an administrator for a commercial estate agent, so apart from the weekend, I only have two typical writing days a week. And that's dependent on other life not getting in the way. At the moment I'm working on the first draft of Book 2 so I'll get up with the family and do a quick tidy up of the house. Once that's done and I am alone I just try to get as many words down as I can. I write a really rubbish first draft but I keep telling myself I can edit it later, but it's important to have the whole story in front of me before I can do that. I would like to be a plotter but I'm afraid I'm more of a pantster or as I prefer, discovery writer. Although for this next book I have read Romancing the Beat by Gwen Hayes, which is a really good book for plotting romance. I'm trying really hard not to write myself into a corner and then having to spend ages unpicking it, as I've done in the past. I use the free version of the app Pacemaker. I set myself a word target and when I want to finish it by, and then plug the information into the app. It tells me how many words I need to write a day to achieve my target. Whenever I've written I add my wordcount to the app and it calculates how many words I still need to do each day. Having that bit of accountability really helps me get the words down.
So once I've done the words, I'll work on other things like admin, social media – at the moment I'm trying to design my own website which is taking up a bit of my time. There's always housework and at this time of year, trying to keep the garden in control. As far as the catering is concerned, I have to confess, my husband does a fair portion of the cooking these days. My eldest son is 21, lives at home, and has a busy social life. My youngest is back from his first year at uni and is working part time in a restaurant, so food has to be geared around individual likes and dislikes and usually has to be something that can be re-heated at various times. Thank goodness for the microwave. Saturday nights are date food nights for me and my husband though. I have folders full of recipes I have cut out from various magazines over the years, so Saturday night is when I experiment and try to cook something a bit special.
Liz and Alex are two lovely complex characters, when the book gets picked up for film or TV, who would you like to see playing them?
Gosh! I can't actually imagine this being made into a film but wouldn't that be lovely? I've based my characters on images cut out from magazines rather than real people but if I had to put a name to them, for Liz, maybe the actress Elle Fanning, because she has the blonde girl next door look and for Alex maybe Richard Madden because he has Alex's dark looks, can be on the rugged side but also looks good in a suit.
Linda thank you for agreeing to come on my blog today and congratulations on your debut novel. What a great story and centred round amazing food and lovely characters. Definitely my sort of book. Without giving too much away food plays an important part in this book and you've included some really interesting food combinations, what was your inspiration behind it?
I'm currently working on book 2, which is set again in both London and Cheshire. The hero, Daniel is a top photographer working in celebrity circles, but he's down-hearted because his wife has left him and taken their son to live in Cheshire. He only gets to see his son every other weekend when he travels to Cheshire to spend time with him. Anna, my heroine is a keen budding photographer but has never had a chance to get any formal qualifications because her mother died when she was 16 and she messed up her exams. She also has to keep the house of her father and numerous brothers going. Being the only girl they unfairly rely on her. She's had a relationship with her former boss which has left her swearing never to have a work relationship again. Daniel is a perfectionist and when he takes Anna on as his assistant is very demanding and not always polite. But as the two of them get to know each other, they see a different side to each other. But there are so many obstacles in the way, will they ever get together?
Thank you, Linda, for coming on to my blog today, and good luck with the release of your book. Xxx
Thank you so much for inviting me onto your blog and for your kind words about my book. It's been an honour to answer your very interesting and thought-provoking questions.
Buying links for Linda:
Amazon: https://amzn.to/3oVpCUo